PNM Grant Recipient
THRIVE in Southern New Mexico is helping rebuild rural communities...
Powered by PNM
PNM Resources Foundation celebrates 40th anniversary
with $700,000 in grants awarded to 44 nonprofits
(Albuquerque, NM) – PNM Resources Foundation is proud to announce its 40th anniversary with a commitment to give back to the community it serves. The Foundation awarded $700,000 in grants to 44 nonprofits that have demonstrated a commitment to important issues around education, inclusion, the environment, and community vitality.
Each nonprofit recipient has made a significant impact on the communities they serve and will be celebrated on June 16 at 11:30 A.M. at the African American Performing Arts Center in Albuquerque. The celebration will include a live art installation performance by Artrageous Artreach camp kids. This student-led performance, coordinated by a world-renowned troupe, will be open to the community and live-streamed for those who cannot attend in-person.
"As we celebrate 40 years of giving, we are reminded of the importance of supporting the community through nonprofits," said Laurie Roach, PNM Resources Foundation executive director. "Their work is critical to address the most pressing issues facing our society and we are grateful to the early founders who enabled this long-standing support of nonprofit impact."
PNM Resources Foundation has been committed to supporting nonprofits in the communities it serves since its inception in 1983. Over the years, the Foundation has awarded millions of dollars in grants to organizations that work to improve the quality of life for people PNM serves across New Mexico and PNM's sister company, Texas-New Mexico Power (TNMP) in Texas.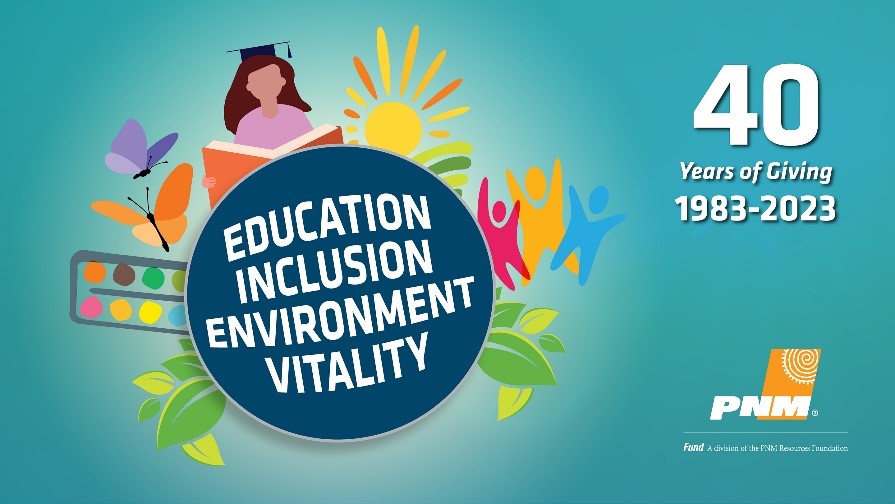 The PNM Resources Foundation 40th anniversary nonprofit recipients are:
516 Arts (Albuquerque)

Adelante Development Center Inc. (Albuquerque)

Albuquerque Health Care For The Homeless (Albuquerque)

Albuquerque Museum Foundation, Inc. (Albuquerque)

Animal Humane Association of New Mexico (Albuquerque)

ARCA (Albuquerque)

Big Brothers Big Sisters of Central New Mexico, Inc. (Albuquerque)

Casa Esperanza (Albuquerque)

Childhaven, Inc. (Farmington)

Children's Advocacy Center For Denton County, Inc. (Lewisville, TX)

Children's Grief Center of New Mexico (Albuquerque)

Christian Community Action (Lewisville, TX)

Communities In Schools of North Texas, Inc. (Lewisville, TX)

Encuentro (Albuquerque)

Ethos Literacy (Albuquerque)

Explora Science Center & Children's Museum of Albuquerque (Albuquerque)

Fusion Theatre Company (Albuquerque)

Future Forge Inc. (Silver City)

Girl Scouts of New Mexico Trails, Inc. (Albuquerque)

Heading Home (Albuquerque)

Hopeworks (Albuquerque)

Keres Children's Learning Center (Cochiti Pueblo)

Lensic Performing Arts Center Corporation (Santa Fe)

Luna Community College Foundation (Las Vegas)

Mandy's Special Farm (Albuquerque)

National Atomic Museum Foundation (Albuquerque)

National Dance Institute of New Mexico (NDI New Mexico) (Albuquerque)

New Mexico Bio Park Society, Inc. (Albuquerque)

New Mexico Museum of Natural History & Science Foundation (Albuquerque)

Prosperity Works (Albuquerque)

Reading Quest (Santa Fe)

Rio Grande Food Project (Albuquerque)

Ronald McDonald House Charities of New Mexico (Albuquerque)

Santa Fe Community Foundation (Santa Fe)

Santa Fe Habitat for Humanity (Santa Fe)

Saranam, LLC (Albuquerque)

Supportive Housing Coalition of New Mexico (Albuquerque)

TenderLove Community Center, Inc. (Albuquerque)

The First Tee of San Juan County, NM (Kirtland)

The Nature Conservancy of New Mexico (Santa Fe)

The Notah Begay III Foundation (Santa Ana Pueblo)

Thrive In Southern New Mexico (Alamogordo)

Wise Fool New Mexico (Santa Fe)

Youth Development, Inc. (Albuquerque)
"This grant will have a significant impact on our ability to design and implement conservation programs for people and for nature in New Mexico," said Terry Sullivan, New Mexico State Director with The Nature Conservancy. "The Santa Fe Canyon Preserve, which was donated to us by PNM in 2000, has become a centerpiece of our conservation outreach and education over these past 23 years and has more than 30,000 visitors and 5,000 students hiking the preserve annually."
All nonprofits completed applications demonstrating outstanding collaborative, newly created programs with visible short-term results and were awarded between $5,000 - $40,000 grants.
In addition to the 44 nonprofit grant recipients, PNM Resources Foundation will also honor the top 40 most active employee community volunteers as part of the Foundation's 40th anniversary celebrations this year.
For more information about PNM Resources Foundation and its 40th anniversary celebrations, visit PNM.com/grants.
About PNM Resources Foundation
Since 1983, the PNM Resources Foundation has helped improve the quality of life by supporting nonprofit organizations served by PNM. The PNM Resources Foundation is a separate, nonprofit, tax exempt corporation governed by a board of trustees comprised of PNM Resources employees. No customer funds are part of the PNM Resources Foundation endowment. For more information, including how each of the grant recipients are serving people in our communities and what project this grant is going towards, visit PNM.com/grants.
With headquarters in Albuquerque, PNM is the largest electricity provider in New Mexico, serving nearly 550,000 customers in dozens of communities across the state. PNM strives to create enduring value for customers, communities and shareholders built on a foundation of Environmental, Social and Governance Principles. At the core of our business, we are focused on our vision of creating a clean and bright energy future, our purpose of working together with our customers and community to serve their energy needs, and our values of safety, caring, and integrity. Visit PNM.com for more information.
###