Annual General Meeting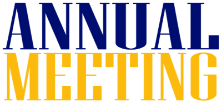 Thrive in Southern New Mexico wishes to remain completely transparent to donors/shareholders/recipients. To that end, we invited the community to attend our Annual Meeting where we discussed our proposed budget, agency application information, and observed the approval of a new slate of officers and board members. We also celebrated the past year's successes and looked at goals for the 2017 year.
All were Welcomed!
LOCATION: Flickinger Center Patron's Hall
TIME: Friday, January 27, 2017, 11:30 am - 1:00pm

Click here to view the event images.